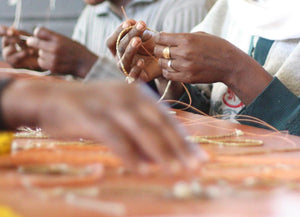 FROM BULLETS TO BEADS
The artillery collection represents redemption. Giving something that had the power to cause pain and destruction, and using it to empower change.
REDEMPTION
The artillery collection comes from Ethiopian women who specialize in working with recycled bullet casings left over from the war between Ethiopia and Eritrea over a decade ago. These bullets have been stockpiled and crafted into beads you can see in our earrings, bracelets, and necklaces from Ethiopia
The cooperative of women who make the jewelry are formerly prostituted women in Ethiopia who now make their money creating fair trade jewelry. Able to escape their former situations, they start with a year long rehabilitation program. The women receive stipends for housing, food, and education through the rehab program, and spend 6 months of the year in skills training where they get to pick between about six different trades, one being jewelry making.
Once used as a means of violence and destruction, these bullet shells are melted down by village artisans, made into beads, and given a beautifully powerful new purpose
WHEN YOU WEAR PIECES FROM THE ARTILLERY COLLECTION, YOU SUPPORT WOMEN IN ETHIOPIA WHO MAKE THE JEWELRY, AND HONOR THE HUMANITY THAT CONNECTS US